Tip Tuesday: Making your home kid-friendly
Do you have kids?
Is your home kid-friendly?
I'm not talking about whether you have child-proof gates on the stairs or all your medicines safely tucked away, I'm talking about making your home a kid-friendly environment.
I have high expectations for my children. They contribute a lot to the general functioning of our family. With that in mind, I need to have my house arranged in a way that caters to them as well.
My house certainly is far from any magazine covers but I like to decorate my house in a way that shows I take pride in what I have. Additionally, my house needs to reflect my parenting philosophy that we are raising saints…not museum exhibits. Our couches are made to sit on…our dishes eaten out of…and our things "touched"…..
Going a step further…
If I want my children to be active participants in the daily activities of our home, I need to make sure that I foster their independence in the way that I set up my home. If you are clueless to what i am saying….it's late….I might be babbling….but read on…somewhere its bound to make sense….
Here are a couple of tips that have proven effective in our little humble abode:
Have things handy to help with chores.
 I keep my kid bowls/plates/cups in a bottom cabinet in our kitchen. I do not want my kids climbing to grab a bowl for breakfast or to get a drink of water. This also makes it much easier to assign them the job of emptying all the "kid dishes" from the dishwasher.
I also purchased one of these nifty broom sets so that I could have the kids take turns sweeping under our table for meals. It has been sooo helpful!!!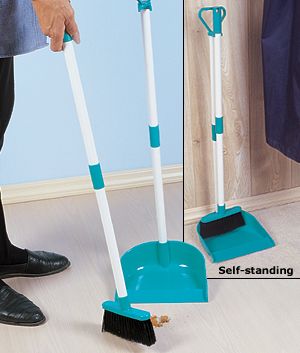 I have also found that investing in some of the Swifter products like the wet mop and duster are great tools for my kids as well. I might not want them to mop the breakfast room floor but throwing a wet pad on a swifter after a night of pasta or ice cream cones is a great way to "help" mom.
Keep things accessible for independence.
My kids love to snack. In some ways, they really think that the kitchen is a drive-thru and that I'm a short order cook. Well…I try and limit my time in the kitchen and my time spent replenishing my pantry and fridge. I have a set menu for the week but my snacks can be more of an option. The kids can choose some sort of fresh fruit or something in the snack bin. This little bin, purchased for one dollar at the dollar store and labeled, is filled with any snack I feel that they can have at any time. Its located where all the kids can access it. Miss Missy, due to her current allergies, has her own bin at her height. When I menu plan, I hit the kids up for suggestions on what they would like in their bin. The kids' snack bin is located next to the red bin in the pantry. Miss Missy's is the light blue bin on the bottom right. What about snacks that I am saving or only want my kids to have every once in a while??? Those are kept on the top shelf labeled kids treats in the red bin. That bin is where I store extra candy, granola bars or fruit snacks for their co-op days, or anything that I don't want them consuming without my knowledge.
I also don't want to be a "nag"…constantly repeating myself in regards to the kids' bathroom behavior and getting ready for the morning. Putting up charts and visual reminders are a great way to assist kids in what is expected. This sign hangs in the kids' bathroom next to the sink. I seriously, made this a few years ago with Google images and Microsoft Word. The kids love it! Once their bathroom is painted, this little ditty will get a nice frame. The second little chart appears right before the children make their way down the front stairs for the morning. It looks like this:I often smile to myself as I see the little eyes scan this sheet before they descend the stairs. If I feel like one of them seems to be "forgetting" several of these, I will send them upstairs to "memorize" the sheet. We have had little "forgetting" in this house.
 I keep all of the children's washcloths in a bin on the floor of the linen closet. This allows the kids to easily grab one before they jump in the shower.  I see no need in folding them. I use to fold them and place them neatly on a shelf. Then one of the kids would grab one, and let the rest of them fall to the ground. This little wicker basket has conquered two issues: I don't have to fold washcloths and the kids can easily locate a washcloth.
I also installed a double closet rod in my hall closet to hang the little kids coats for the winter. After adding a few little hangers, it makes it way easier for them to hang their coats and for their siblings to assist as well.
Create spaces for your kids
When my husband and I moved into our new house three years ago, we sacrificed more yard space for a larger house with an open floor plan. I loved how spacious my new house was and was eager to give everything a place. People were often surprised that I had decided to designate a "school room" in my house for my kids. However, it seemed to be necessary for someone who would be schooling four and then five children to have enough space to house all the stuff that that would require.
As you can tell, this room is currently "under construction". However, you get the general idea. The kids have their own "cubbies" and places for stuff. There are plenty of activities to occupy the little tots while I am working with one of the other kids.
As our family grows and our children undergo new developmental stages, the hubs and I will continually look for ways to help them in maintaining their independence.
I would love to hear how you create a kid-friendly environment…anyone want to offer some suggestions??? I'm always looking for some great ideas!!!
God Bless,
Tammi