Father's Day is such a great time to honor those who work tirelessly for our little families. To show fathers how important their role is in the life of a child.
It's so important for me that my children honor their dad and show him how much he means to them. His love language is words of affirmation so I knew he would love to read some of the kids' thoughts on him.
Last year, we decided to have a "superhero" theme for our Father's Day.
I downloaded a cute Father's Day superhero banner and the kids gave me examples of why dad was a superhero.
We then wrapped some of his favorite candies in these cute superhero wrappers.
He loved every bit of it!
Sweet Pea also made him carrot cake cupcakes with cream cheese frosting…his favorite!! She couldn't help but write "Happy Father's Day" on his plate as well. (How cute is she…adding basil to make green leaves for her flower cupcake….I love her!)
Each year, we try and do something different. Something that is centered around what "Daddy loves". And this year, will be no different.
The kids had their "group meeting" and decided on the menu/plans for the day….here goes:
Decorate Dad's bedroom door.
Surprise him in bed with a cup of coffee and his shakeology.
Have him open their presents. (see below)
Sunday Mass as a family
Donuts after Mass at Dad's favorite place…Yum Yums!!!
Pool time with dad (if the weather is nice)…if not, it's a day of board games!!!!
Mom makes dad's favorite dinner: pork tenderloin with candied lima beans and mashed potatoes.
Sweet Pea is making an apple crisp with vanilla ice cream for dessert.
I am really excited to see him open this present this year!
Shutterfly has made it SUPER easy to create a beautiful memory book!
The kids helped me to complete this book and each child composed what to say on their own page. (click on the link below to see the book)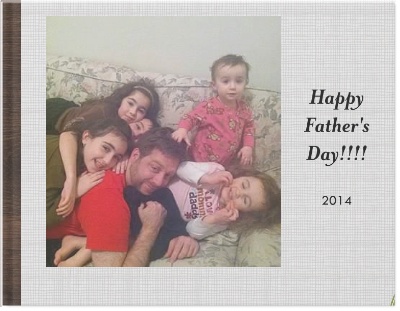 Click here to view this photo book larger
We grabbed this great steal at amazon.com as well for his new car. He's going to love it!
Happy Father's Day!! May you find a way to show your dad or husband how loved he really is!
God bless!
Tammi